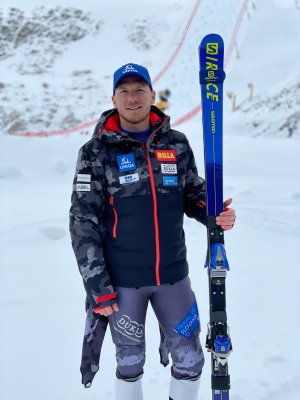 13.09.1990
Adam "Sangy" Žampa
Residence: Vysoké Tatry, Starý Smokovec
Ski club: VŠC DUKLA Banská Bystrica
Hobby: Fast cars, Aircrafts, Bikes, Freestyle skiing :)
Ski brand: SALOMON
Motto: Everything we are is the result of our thoughts!
Welcome on my official website, here you can find some news about me and my team.

I started skiing when I was 3 years old. My parents were always supporting me. Since I was young I dreamed of being an Olympian and to race in the FIS Alpine Ski World Cup. Today my biggest achievements are 5th place in Alpine Combine from the Winter Olympic Games in Sochi 2014 and 6th place in Slalom. I managed to score the fastest time in the second run both in Alpine Combine and Slalom. At the World Championships I took 8th place in the Giant Slalom in Cortina d'Ampezzo 2021. Moreover I was a part of the silver medal team at St. Moritz 2017 World Championships where Slovakia took second place.

If you want to know more about my results such as 5th place in legendary Kitzbuhel Streif or others click the link below.

Don't forget to always believe in your dreams and follow them even if you're the only one who believes in them… I am the real example of that if you believe in something, you will make it! I hope that I inspired you somehow to make a decision to be a professional alpine ski racer.

I hope you will keep your fingers crossed for me and I am looking forward to seeing you on skis in the Alps, Tatra Mountains or during Zampa Cup.

Best regards

Adam Žampa
Tomáš Žampa
Head coach - in our team he has to organize everything about skiing, tickets, accommodation, training tracks ... Often times he is also our chef, especially in the summer in New Zealand. He caught us skiing and he still survives him with us.
Svatopluk Kovář
Ski tech - He has been a member of our team since 2018. He has a lot of experience from the ski world as well as from the World Cup or the Olympics. He worked for a long time as a coach and serviceman for Klara Křížová and later for the two-time Olympic winner Ester Ledecká or the Czech representative in skiing Kryštof Krýzl. Today he is the main person in our team who provides everything around skis.
Viliam Štinčík
Physical coach - we have been cooperating since I was 15 years old. He is an excellent person who can train a person physically but mainly mentally! He holds the Slovak record at the fire station of 16.38 sec. He represented Slovakia in firefighting at four world championships.
Anna Kolasa
Physiotherapist
Tomáš Kostelničák
Manager - Tomáš has been in our team since 2018 and provides all things regarding management and communication with partners. He used to be a top tennis athlete and holds the title of Bratislava champion. Today, he is an entrepreneur and operates the network of the Julius Meinl café as well as the Pharmacy Vaša Lekáreň. He sticks to the motto 'My work is my hobbie' and that's why the management of the Žampa team started doing it because he loves skiing.